Episode 26 – The Murder of Gemma McCluskie
March the 3rd, 2012, had started like any other Saturday for the police officer on duty in London's East End. But when two men, Tony and Danny McCluskie, and their friend Nicole stepped into the station, that evening instantly turned into one of those that the officers would never forget. As soon as Tony and Danny explained that nobody had seen their sister for two days and mentioned her name, the officers knew this was not going to be a typical missing persons case. And yet, they never imagined how horrifying and shocking the investigation into Gemma McCluskie's disappearance would actually be.
Disappearance
29-year-old Gemma McCluskie was a familiar face in many British households. She played Kerry Skinner in 34 episodes of EastEnders—one of the most popular soap operas in the UK. After her character was written out of the show, and while she was waiting for her next big thing, Gemma worked hard as a barmaid to provide for her family. Gemma lived in a flat in Shoreditch together with his brother Tony and mother Pauline, who was terribly sick. After her mother was diagnosed with a brain tumour in 2011, Gemma acted as a carer for Pauline. Gemma was a very family-oriented person, always ensuring her loved ones had everything they needed. Overall, Gemma was this lovely, bubbly, smiley and cheeky girl who was described as a wonderful friend with a heart of gold. Thanks to her captivating personality, nobody ever doubted that Gemma was destined to be a star. Or so everybody thought before Gemma went missing.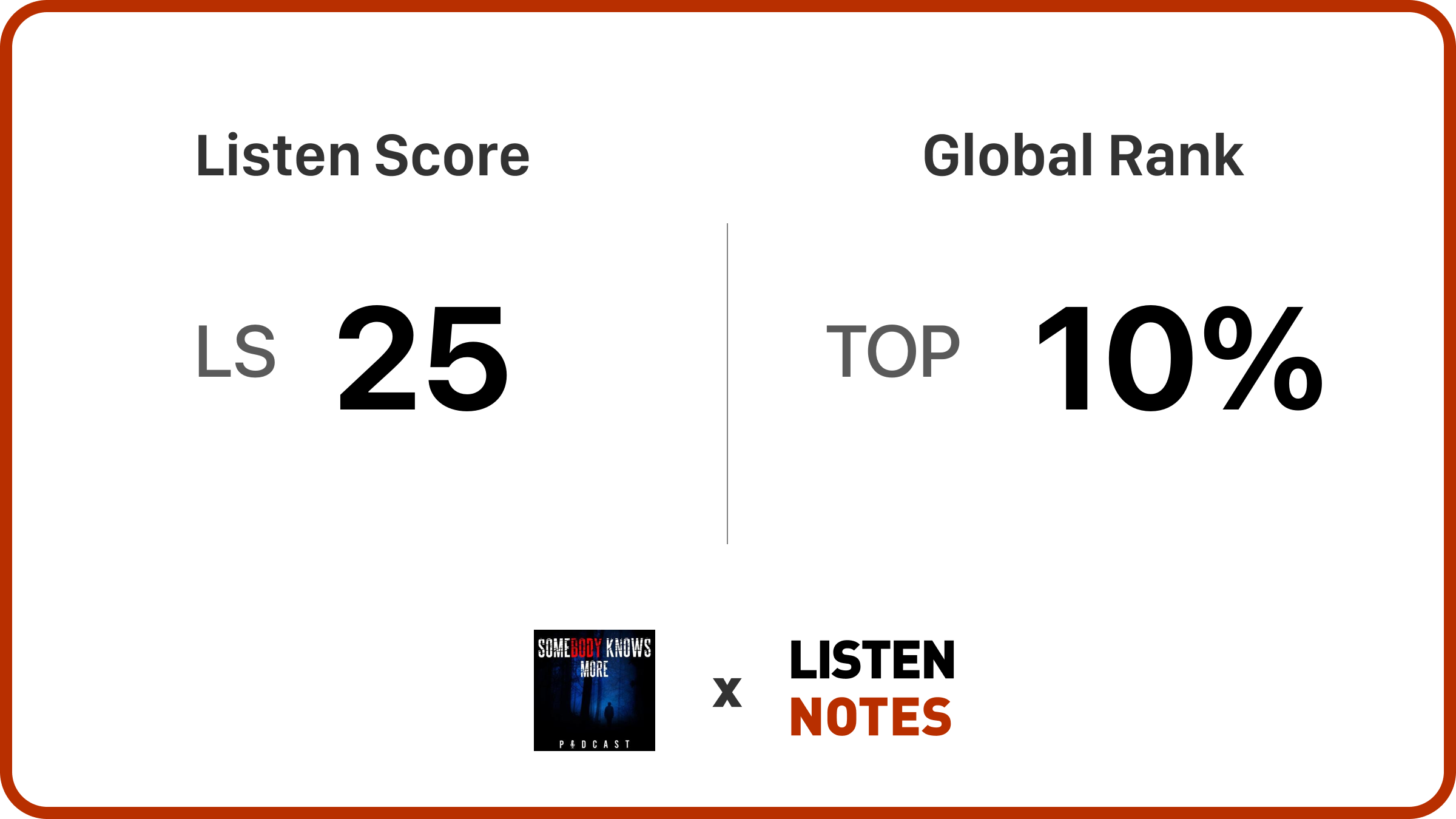 For more horrifying true crime stories, please click below:
According to Tony, he was the last person who saw Gemma on Thursday, March 1, when she left home—oddly without mentioning where she was going or when she was coming back. Still, despite the fact this was not Gemma's normal behaviour, the police were not too concerned. After all, she was an adult who had every right to take a few days for herself and "go missing." Nothing at this point suggested foul play, so Gemma could just return home at any moment and apologise for worrying her family. However, Gemma's friends could not shake off the feeling something was terribly wrong. Why would a person who normally was very active on social media and constantly texting her family members and friends suddenly stop responding to everyone? In addition, Pauline had been hospitalised just six weeks prior due to an infection, and Gemma had visited her every single day—she wouldn't voluntarily stop seeing her mother. Although, it was difficult not to think about the possibility that Gemma had left with the purpose of taking her own life. She had lost her dream job in EastEnders, and her acting career had been at a standstill ever since. On top of that, Gemma was now losing her beloved mother—everybody has their breaking point.
So, fearing the worst, Gemma's friends and family organised a search and distributed missing persons posters all over the East End. As soon as Gemma's former co-stars, including Brooke Kinsella and Martine McCutcheon, heard about her disappearance, they began to spread the word on social media to appeal for information. Everyone hoped that as millions of people were familiar with Gemma's face, somebody would soon come forward saying they had seen her, and the police would get an idea of her last steps. It was hard to believe that Gemma could have just disappeared without a trace. So far, the police had learned that Gemma attended the £650 million opening of the new Royal London Hospital in Whitechapel on the morning of March 1 because her friend's child was singing in the school choir. This was confirmed by checking photographs taken at the event—Gemma can be seen in the crowd wearing a bright yellow jacket and holding her phone as she recorded the choir. Later that afternoon, Gemma was home with Tony before leaving again without saying where she was going. It was not until Gemma's friend went around asking local business owners if they had seen her that it was discovered Gemma may have entered a kebab shop that evening at about 8 PM. While the information was not ground-breaking, it was still a step forward, and Gemma's friends and family were excited they had narrowed the timeline. But unfortunately, that feeling only lasted for a brief moment. When the police went to check the CCTV footage of the kebab shop, they found nothing—Gemma had never actually been there on the night she disappeared. In a blink of an eye, the investigation was back to square one.
Soon, national newspapers began writing about a former EastEnders star gone missing. Gemma's case quickly gained awareness and spread across the country. And yet, hour after hour and day after day passed without new leads, and every second, the chances of Gemma being found unharmed got thinner. As they had absolutely no idea where to look for Gemma, the police searched everywhere they possibly could. They visited local shops and checked more CCTV cameras, but every time, the officer returned empty-handed. It was like the earth had opened and swallowed Gemma leaving no evidence of her fate. But then, on the fifth day of his sister's disappearance, Tony suddenly received a series of strange phone calls. The person on the other end claimed they knew exactly what had happened to Gemma—in fact, they had kidnapped her and wanted money in exchange for her release.
During the first call, the kidnapper demanded 2 million pounds that needed to be delivered to Bentley International Station. If Tony didn't do as he was told, Gemma would die. The second time around, the stranger asked for the same 2 million but also demanded 500 Iraqi money. Tony told the police that when he asked to speak with his sister, the kidnapper said Gemma was kept naked and alone in a room. It was horrifying for Gemma's family to learn she was in the hands of people who were ready to kill her—but at the same time, they now had hope that she was still alive and could be rescued. The police were able to trace the calls to an address over 30 miles away in Kent and hurried to the scene. However, soon after arriving, the officers discovered that the phone calls had been nothing else than a cruel hoax orchestrated by drunken teenagers. The boys had thought it would be funny to torment the missing woman's family—not understanding that Gemma's loved ones were already in the middle of a living nightmare.
So, once again, the police had to sit down and think about where to look next. But before they had time to resume the investigation properly, the search for Gemma McCluskie ended in the worst way possible.
Discovery
On March 6, 2012, officers responded to a call of a suspicious object floating in the Regents Canal close to Hackney's Broadway market. The object in question was a suitcase which was then brought ashore and opened—inside, the investigators discovered a headless torso of a woman. The police immediately knew they had found partial remains of Gemma McCluskie. When the young woman had been reported missing a few days earlier, the police learned she had a butterfly tattoo on her back. So, even though all the usual body parts used for identification were gone, that tattoo was still clearly visible on the torso. Soon after, DNA tests further confirmed this was Gemma.
The shocking news about the sad and horrifying development in the case quickly spread across London and the whole nation. It was almost impossible to comprehend that a young woman had disappeared so suddenly without a trace and then been found murdered and in pieces in a canal. Gemma was a person many had seen on their TV screen—her untimely and brutal death touched people across the country. How could someone do such a thing to another human being, and why? Without having any apparent suspects, the police began their hunt for the killer. They searched the Regents Canal for the rest of Gemma's remains and any other evidence. Within a few days, investigators found limbs that had been disposed of in rubbish bags—but the head remained missing. The medical examiner noticed bruises on Gemma's body that indicated she might have been beaten before her death but more disturbing were the nearly a hundred hacks or axe marks on the torso. Whoever the killer was, they had clearly been furious as if Gemma's murder had been a crime of passion. But who would have been so angry with Gemma? The more the investigators looked into it, the more it began to seem like she had died in the hands of someone she knew.
Tony
As they continued to put together the timeline of the day of the disappearance, the police learned that Gemma had told her friend she had argued with her 35-year-old brother, Tony. Gemma and Tony were opposite personalities—while she was lovely, smiley and ambitious, he was an academic failure, disruptive, and addicted to drugs. Tony lacked a direction in his life. Nothing really interested him; he didn't have the motivation to finish school or work. The only thing Tony really enjoyed was drinking and smoking weed all day at the apartment he shared with Gemma and their mother. While Gemma could not stand her brother's behaviour, Tony resented her for being more successful than him. Needless to say, when Pauline was then hospitalised, and she was not present to keep things calm, Gemma and Tony began to argue non-stop. But even though the situation was undoubtedly spiralling out of control, could it really have gotten so bad that Tony butchered his own sister? Perhaps he could have gotten angry enough to hit Gemma, but murdering and mutilating someone is a whole another level. Still, Gemma's friends had been present when she spoke on the phone the day she died, and Tony had shouted so loud everybody in the room heard him. In the end, Gemma had enough and told Tony to bag his bags and get out of the house—but unsurprisingly, he didn't listen. According to Gemma's friends, she then headed home to confront Tony and kick him out—that was the last time anybody heard from her.
At this point, the police had heard enough, and Tony McCluskie was arrested on suspicion of his sister's murder. As the family home was then searched, the investigators discovered drops of blood in the bathroom and kitchen—as well as a missing knife. Furthermore, as more CCTV footage was checked, the police saw Tony dragging a heavy suitcase into a taxi. No matter how unimaginable the situation was, there were absolutely no questions left about whether or not Tony had something to do with Gemma's death. On March 10, 2012, Tony McCluskie was charged with his sister's murder and almost a year later, on January 13, 2013, the trial began at the Old Bailey.
Now, Tony did admit he was responsible for Gemma's death, saying they had argued about an overflowing bath before punching his sister to the floor—but conveniently, he claimed he didn't remember anything else. As Gemma's head had finally been found on September 10, 2012, it was confirmed she died because of several blows to the head with a blunt instrument. Afterwards, Tony spent hours dismembering her body and yet, he said he had no recollection of his actions. Tony also pleaded guilty to manslaughter but denied murder because of a "loss of control." But the thing is that even if a person simply loses control and kills someone in the heat of passion, they usually stop way earlier than Tony did. He kept hitting his sister over and over again and then dismembered her body, trying to hide what he had done so that he would not get in trouble.
In the end, Tony was found guilty of murder on January 30, 2013, and sentenced to life imprisonment with a minimum of 20 years. The heart-breaking thing is that the siblings' father, Anthony McCluskie, tried to stand by his son—after all, he had already lost the love of his life, his daughter Gemma. But due to the fact that Tony has never shown even a tiny bit of remorse, Anthony eventually gave up and disowned his firstborn son. And just like that, a family lost two children just because one of them refused to become a better person.
Episode Credits: 
Host – Rhiannon Doe 
Voiceover – Kwesi 
Website layout & design – Fran Howard 
NEWS ARTICLES & RESOURCES
The Murder of Gemma McCluskie | Crime Documentary |
The Eastenders Murders: True Crime, Real Tragedy
Brother jailed for life for murdering ex-EastEnders actress Gemma McCluskie before dumping body in canal
Brother accused of killing ex-EastEnder Gemma McCluskie
Severed head recovered from Regent's Canal where decapitated remains of former EastEnders actress Gemma McCluskie were found
Gemma McCluskie: Friend of EastEnders actress says she wanted brother Tony to move out
EastEnders' Gemma McCluskie death: Brother faces murder trial
Gemma McCluskie Missing: Police Divers Search Canal For Body Parts
Gemma McCluskie's brother charged with her murder
EastEnders' Gemma McCluskie 'killed after sink row'
Gemma McCluskie Missing: Body Pulled From Regents Canal In Hunt For Former EastEnders Star
EastEnders' Gemma McCluskie murder: Brother guilty
Gemma McCluskie death: Nine years on from the tragic murder of EastEnders star
True Crime Fans Need To See C5's Chilling Doc On The Murders Of 2 'Eastenders' Stars